ARE BULL BARS LEGAL?
Bull bars (including; nudge bars, frontal protection, front bars and A-Bars) are legal as long as they are EU compliant.
Bull bars fitted to vehicles must not be rigid – as this type of fitment was banned by the EU in 2007. Truckman's certified range of bull bars come with a comprehensive fitting kit including bolts or plates that ensure flexibility in the event of a collision.
Truckman's range of bull bars come with a complete fitting kit including bolts or plates that ensure flexibility in the event of a collision. Each bull bar comes with comprehensive and pictorial vehicle-specific fitting instructions – and are fitted using existing mounting points at the front of the vehicle. Bull bar fitting takes between 30 and 60 minutes and doesn't require professional fitting thanks to the included, easy to follow fitting instructions.

WHAT BULL BARS ARE BANNED?
Illegal bull bars are "rigid" meaning they are very inflexible, they don't absorb any force and are potentially very harmful to cyclists, motorcyclists and pedestrians. On the other hand, they also don't allow the crumple zones to set off the airbags therefore can cause serious injury to passengers also.

A SHORT HISTORY OF BULL BARS
Bull bars were first made in Australia to protect vehicles from larger mammals and birds that regularly pose a danger to traffic. However, studies in the 1990s into accident and crash data showed a link between increased deaths of pedestrians and vehicles fitted with traditional bull bars. It was found that pedestrian deaths could be reduced by 6% and serious injuries could be reduced by 21%. Older, traditional bull bars tended to be firm and compromised the vehicle's crumple zones and fitted-as-standard crash protection systems.

BENEFITS OF FITTING A BULL BAR
STYLING
Bull bars offer discerning pick-up truck, 4x4 and van owners an affordable way of customising the look of their vehicle. From hand polished stainless steel to powder coated black – our bull bars are durable, long-lasting, chip and corrosion resistant. Take your vehicle to the next level by adding this strong and modern look.
OFF-ROAD
Front bars are great for off-road enthusiasts, they protect crucial parts of your truck from branches, rocks and scuffs. They also provide a great mounting point for lights.
FARMERS
Bull bars prevent frontal damage from fence posts, livestock, etc.
63MM A-BAR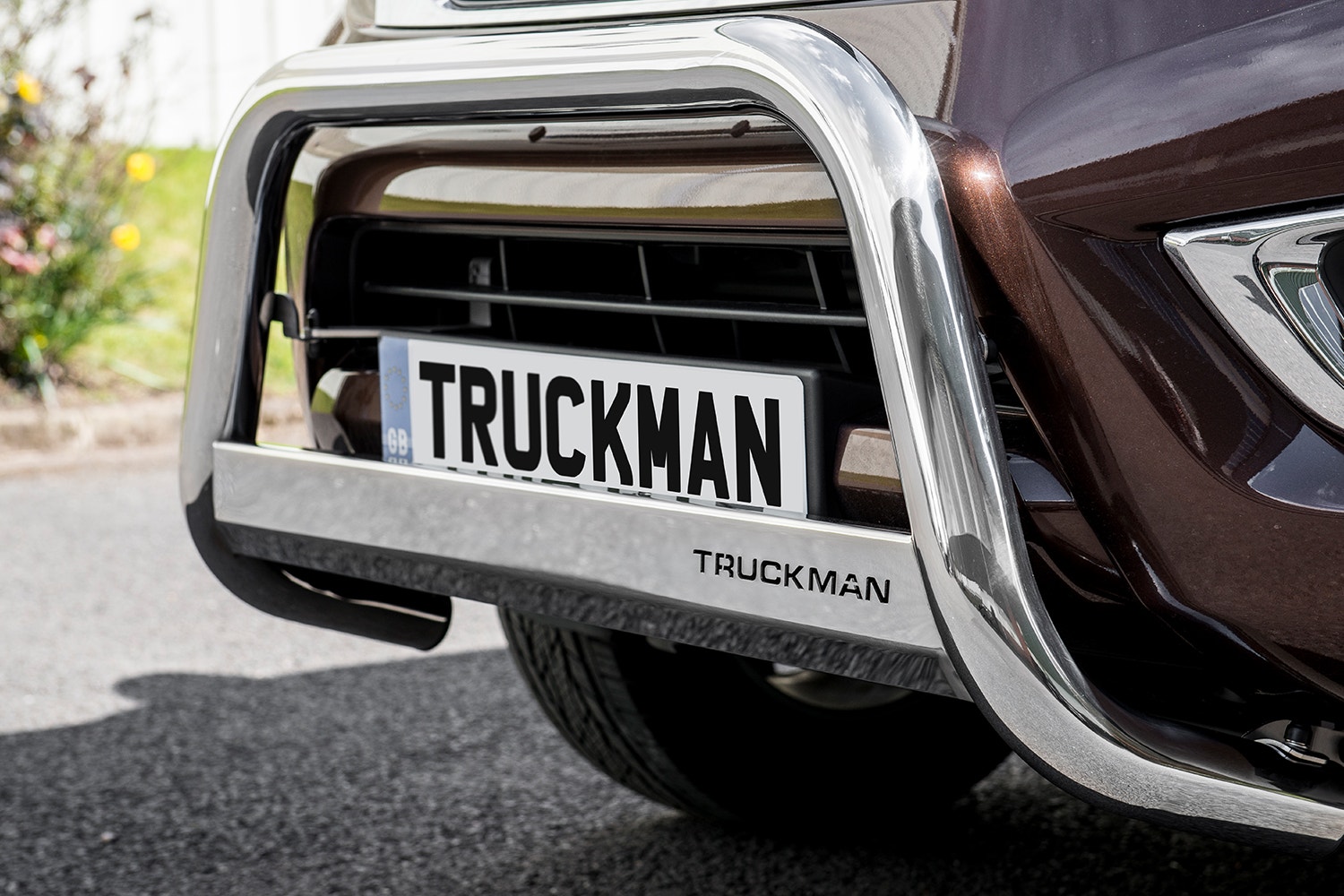 Take your vehicle to the next level with a Truckman heavy-duty 63mm front bull bar. Not only will the bull bar add a strong and modern look to your truck, it will also provide impeccable front-end protection for both your vehicle and your passengers.
Installation is simple and no drilling is required, the process takes around 30-60 minutes - a comprehensive set of instructions will be included. Designed and manufactured specifically for your vehicle.
76MM BULL BAR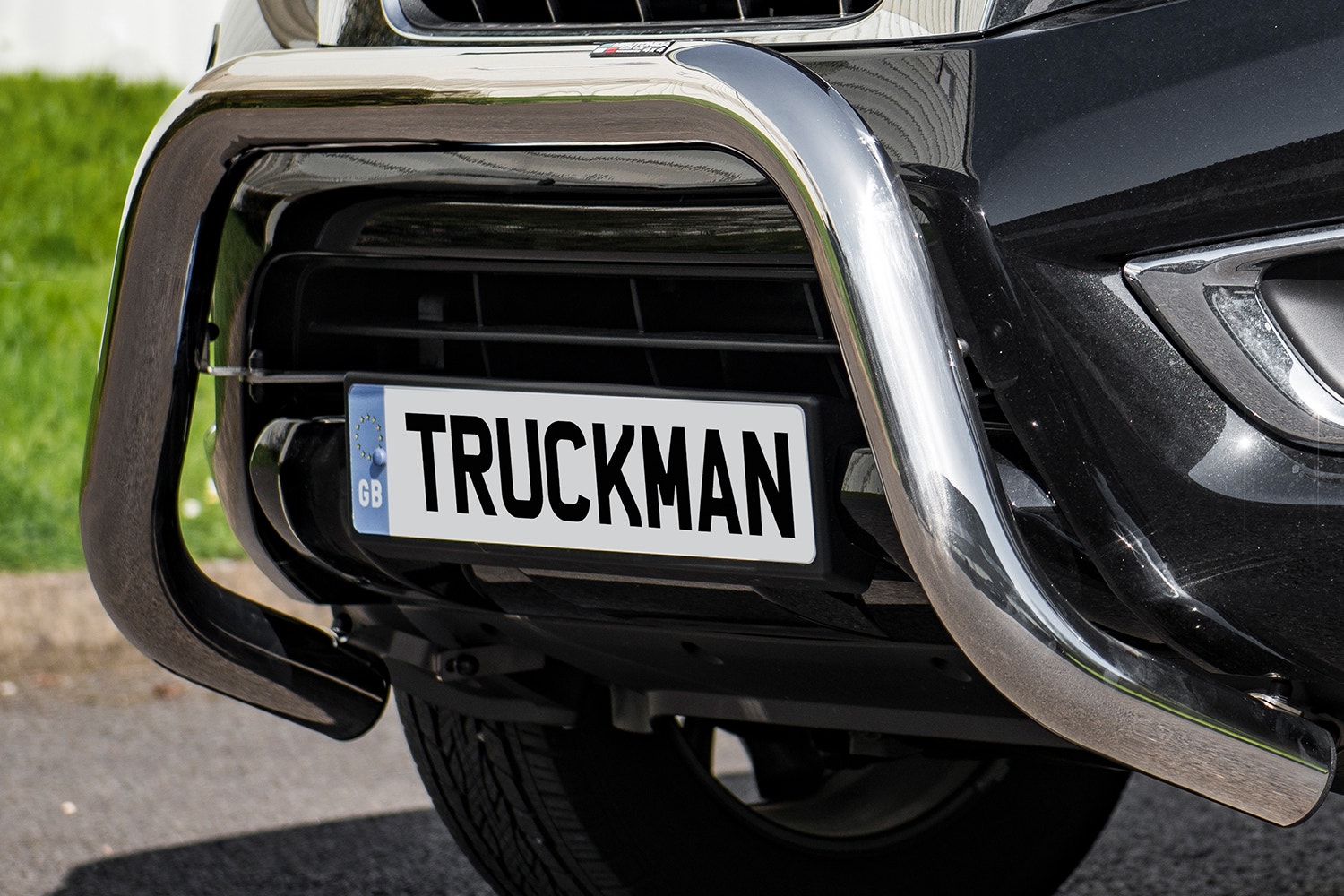 Carefully crafted in Italy specifically for your vehicle, this attractive chrome front bull bar gives your vehicle an eye-catching upgrade and will provide unbeatable protection to the front end. The front bull bar is finished in a chrome styling, making it naturally resistant to corrosion and rust, ideal for when you are offroading or simply driving through town.
Installation is simple and you will be on the road within the hour thanks to its non-drill process. The bull bar simply attaches to your Ford Ranger's existing mounting points.

Our range of bull bars are supplied by Misutonida in Italy with more than 25 years in the production and sales of accessories for off road cars and S.U.Vs.
Their aim is to create high quality products with a 100% Italian design. To achieve this all of their production cycle is carried out inside their factory, with an impressive care for the details and the solidity of the accessory.
The development of their prototypes is made by working directly on the cars. The result is a range of unique products which are never standardised, adhere to and complement the car lines and protect the vehicle.