DECKED Twin Drawer Storage System Ford Ranger Mk5-7 (2012 Onwards) Double Cab
Designed to increase productivity and organise your truck bed, DECKED's twin drawer storage system is a solution to the problem of having to reach over or crawl into your truck bed to reach cargo that slides around endlessly.
Read More
Designed to increase productivity and organise your Ford Ranger truck bed. The DECKED storage system offers a solution to the constant problem of having to reach over or crawl into your truck bed to reach tools or equipment. DECKED is constructed from a high-density polyethylene and an ultra strong steel sub-frame which can hold an astonishing load capacity of 1000kg.
DECKED is fully customisable and several accessories, including drawer dividers and tie-down racks, are available to further tailor it to your needs. Suitable for both commercial and recreational use.
Features and Benefits
Ultra-strong low-profile steel subframe - 1 tonne load rating
Increases width of truck bed as wheel wells are covered - full bed use
High-density polyethylene - rot proof, oil resistant and able to withstand extreme conditions
Two full bed-length drawers - glide out at waist height for increased safety and productivity
Customisable with accessories - (select from the options below)
Weatherproof with integrated drainage channels - protects cargo from the elements
Oversized cast aluminium handles - for an easy and efficient access
3 year warranty - for extra peace of mind
For both commercial and recreational users - built in conversion chart, ruler and bottle opener!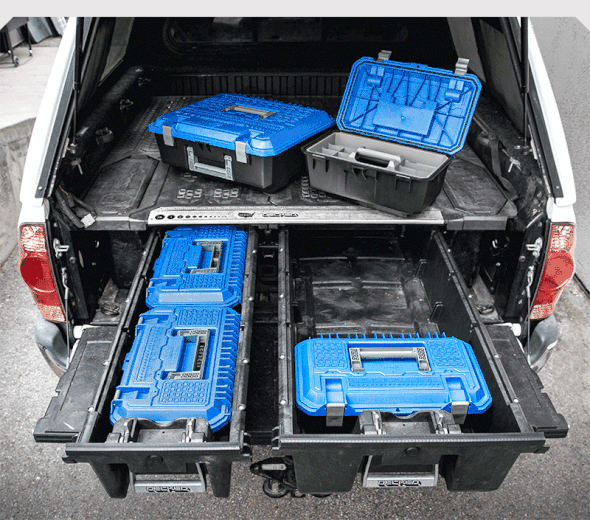 Award Winning Secure Drawer Storage System
Designed in the United States and exclusive to Truckman, DECKED is a unique and revolutionary low-profile pick-up truck drawer system. Featuring ergonomic and heavy-duty drawers that conveniently slide in and out at waist height, discerning pick-up owners can maximise the carrying capacity and practicality of their vehicle.
Introduced to the UK by Truckman, DECKED has achieved approval from major manufacturers such as Toyota and Nissan. Valued by commercial and leisure users, this innovative storage system is ideal for tradespeople, sports enthusiasts, utility engineers, farmers and more.
ULTRA-STRONG HDPE & STEEL SUB-FRAME
Built to last a lifetime, DECKED is manufactured from High-Density Polyethylene (HDPE), an impressive material which is resistant to chemicals and able to withstand harsh environments. The HDPE is co-moulded onto a super-strong American steel sub-frame, this allows for an impressive 1 tonne load capacity. Additionally the storage system delights its owners with its integrated, roll-out drawers which carry an outstanding load capacity of 90kg each.
LOAD SPACE PRESERVATION
DECKED features a raised platform that fits securely and precisely into the Ford Ranger pick-up truck's load bed. The storage system increases the surface area of the truck bed as the wheel wells are covered, creating a usable flat surface across the entire footprint of the truck bed, maximising your storage space allowing you to transport large, heavy items above and providing ergonomic storage below.
Weather-Proof and Rot-Proof
DECKED pick-up truck drawer system is both trusted and renowned for its secure storage of valuable items - as well as keeping the storage space dry. DECKED features integrated drainage lines to channel water out - this helps keep your tools and equipment safe.
The DECKED system is designed to live outside and can withstand extreme changes in weather conditions.
Customisable and Upgradable - Above and Below
The UK-award winning pick-up truck drawer storage system is as versatile as it is dependable. Featuring a low-profile platform made with a high-strength steel subframe, DECKED is compatible with a range of proprietary accessories such as drawers to increase efficiency and organisation and tie-down systems to maximise the load-carrying potential of your vehicle. Furthermore, DECKED can be easily modified to work with Thule bike racks and carriers.
This versatile, value-adding Ford Ranger pick-up truck upgrade satisfies tradespeople, engineers and more with its practical uses offered by the smooth-action drawer system below - and its reliably-strong cargo-carrying space above.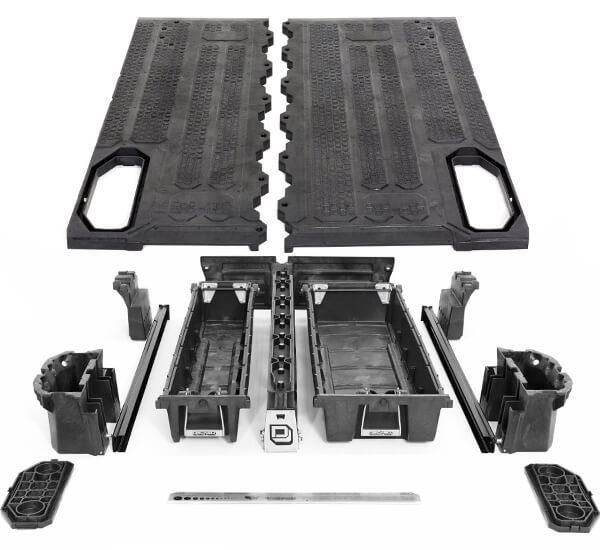 Easy to Install & Remove
DECKED storage systems are manufactured with vehicle model-specific precision - matching the load bed's sidewall topography to ensure a snug and secure fit. A minimal amount of drilling is required to install DECKED, usually around 4-6 holes. Every DECKED system is shipped with an easy to follow, step by step fitting guide enabling you to transform your pick-up with a life-changing upgrade.
Specifications
System Dimensions
| | |
| --- | --- |
| Height | 304.8mm |
| Total Weight | 91kg |
Narrow Drawer Dimensions
| | |
| --- | --- |
| Length (top of drawer) | 1346.2mm |
| Length (bottom of drawer) | 1201.4mm |
| Width (top of drawer) | 279.4mm |
| Width (bottom of drawer) | 247.7mm |
| Height | 215.9mm |
| Drawer Extension | 914.4mm |
Wide Drawer Dimensions
| | |
| --- | --- |
| Length (top of drawer) | 1346.2mm |
| Length (bottom of drawer) | 1201.4mm |
| Width (top of drawer) | 457.2mm |
| Width (bottom of drawer) | 425.5mm |
| Height | 215.9mm |
| Drawer Extension | 914.4mm |
Frequently Asked Questions
Can I use DECKED with a hard top canopy installed?
Yes. Most DECKED users combine their drawer storage system with a hard top canopy installed on their pick-up. This creates immeasurable, weatherproof storage and cargo-carrying capacity as the DECKED platform can be used to carry bulky items or pets, with valuables such as tools is stored securely in the concealed drawers underneath.
Can I still use my plastic load bed liner?
No. DECKED is a vehicle-specific system designed for a precise, stable fit and installation on a plastic bed liner is not advised.
Can I use a BedRug mat or carpet?
DECKED is compatible with the BedRug carpet liner and BedMat. However, BedRug carpet owners are advised that there will be a very snug fit - initially. DECKED wheels will wear on the rug but the action will become smoother as the wheels wear in.
Can I use a tonneau cover or roller shutter?
DECKED sits 12-inches tall. It's compatible with tonneau covers such as the Truckman Aluminium, Max Hard Tonneau Cover and Mountain Top Roll.
More Information

| | |
| --- | --- |
| Brand | Decked Storage Systems |
| Compatible Vehicles | Ford Ranger Mk5 (2012 - 2015) Double Cab, Ford Ranger Mk6 (2016 - 2020) Double Cab, Ford Ranger Mk7 (2019 Onwards) Double Cab |
Downloads:
Fit at Home
This product can be DIY-installed with the included fitting instructions.
Fitting & Installation Centre, West Midlands
If you'd prefer to have this accessory fitted by our experts, read on to learn about our accessory fitting service. Open five days a week, our specialist West Midlands fitting centre is ideally located in Dudley, around 30 mins from Birmingham City Centre.
Our experienced team of fitters and technicians are on hand to accessorise your vehicle whilst you relax in our pet-friendly showroom. Here are some benefits of our fitting service:
Express fitting of accessories by experienced specialists
Comfortable waiting area and accessory showroom
Free WiFi and TV
Pet-friendly
Close to Merry Hill Shopping Centre, over 200 shops
Located alongside Dudley Canal with scenic waterside walkways
Delivery Methods
Fast, same-day despatch on orders placed by 2:00pm on weekdays
Fully insured and trackable shipping methods using specialist delivery partners
Competitively-priced delivery rates across our diverse range of products - from fast parcel shipping to pallet delivery
Products handled with care and packaged in highly-protective packaging
International Delivery
Our dedicated Export Team are on hand to facilitate international delivery. Customers outside of the United Kingdom can Request a Quote by proceeding through the Checkout. Our team will contact you within 24 hours with a competitive shipping price.
Returns
If you're unhappy with an item you've ordered, or you've ordered an incorrect item, contact us and we'll make the returns process easy. Read more.
For more information about delivery and returns, please see our Terms and Conditions.