Vision X XPR-12 24-inch LED Light Bar Kit Mitsubishi L200 Mk8 (2016+)
Features and Benefits
24-inch, specifically designed for Mitsubishi L200 (Series 5 and Series 6) - an immeasurable, value-adding upgrade
Incredibly strong 12,984 lumens LED light - enhance visibility for low-light conditions
Unbreakable polycarbonate glass - withstands the toughest knocks and bangs
Heavy-duty, moisture-proof housing - resistant to all weather conditions
Active automatic temperature control - maximises intensity and brightness of the light
Military-standard EMC interference filter - eliminates interference with other electronics
Includes mounting brackets, accessories and instructions - easy to install
5½ year's Vision X warranty - for added peace of mind
The most powerful Europe-approved vehicle-mounted LED light
The Vision X 24-inch XPR-12 LED light bar generates a striking 12,984 lumens - for comparison - a 35W halogen lamp produces approximately 750 lumens. With the XPR-12's IRIS reflectors and multi-optics, the light bar creates a broad mixed beam light pattern. This effective use of advanced optics gives you enhanced visibility in low-visibility conditions - in both length and width of the light - with an emphasis on the road ahead. This is especially practical in giving incredibly strong light both horizontally and vertically to help spot dangers along the roadside.
Through the mixed/combo beam pattern, the light emitted from the centre of the light bar is optimised for additional frontal reach and visibility without wasting too much light upwards or into the periphery. Unlike cheaply-manufactured LED light bars, Vision X products are renowned in Europe and the United States for their quality of light output through extreme-focus reflectors. Symptoms of cheaply-manufactured alternatives include "loss of light" - unoptimised lighting angles.
Spot beam output optimised for distance and spread - 1,365ft
Vision X products are engineered for the highest possible luminous efficacy - the ratio of lumens per watt.Suitable for low-level installations (under your registration plate), the XPR-12 gives you a 5° focused beam and a smooth, secondary 70° flood beam. The inclined diodes at each end of the light bar illuminate the roadside ahead, exposing potential dangers in low-light conditions - a significant and value-adding upgrade for your vehicle.
Internationally Certified with Unbreakable Glass
The Vision X 24-inch XPR-12 LED light bar is certified with IP68 and IP69K ratings and housed in a heavy-duty anodised aluminium, moisture-proof casing able to withstand vibrations of up to 15.6 Grms. Integrated heatsinks and cooling channels help guarantee the lifetime of the LEDs (Light Emitting Diodes). IP (Ingress Protection) is the international standard and accepted measurement of resistance to dust and liquid.
The XPR-12's IP68 rating means the light bar can withstand road dust and dirt as well as resist water submersion up to a depth of 1.5 metres for 30 minutes. The IP69K rating certifies that the light bar is able to withstand high water pressure and steam cleaning. The in-built flexible polycarbonate glass is lightweight, impact-resistant, shatterproof - and provides 100% UV protection.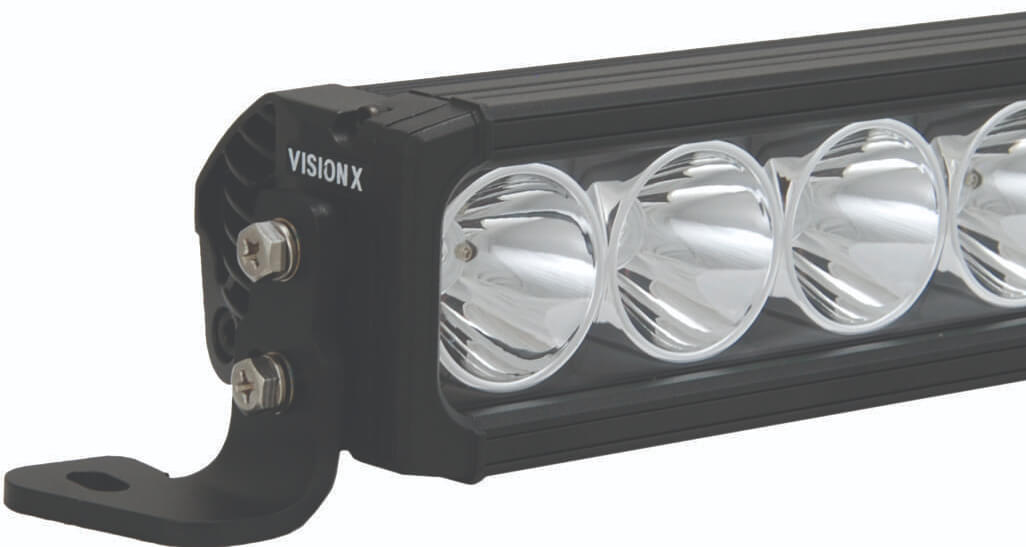 Unbreakable glass with heavy-duty, moisture-proof housing
The glass means the powerful lenses are shielded from stone chips and road debris, maximising the lifespan and effectiveness of your light bar.Vision X products are certified with the highest military radio interference classification - meaning the installation of the Xmitter LED light bar, unlike cheaper alternatives, won't lead to annoying interference to your vehicle's radio or other electronics.
Prime Drive Technology
Cheaper, lower quality LED light bars famously suffer deterioration from high operating temperature. This reduces the LED's (Light Emitting Diodes) brightness, colour temperature and effectiveness over time. Vision X's unique Prime Drive technology actively monitors temperature through ETM (electronic monitoring).
When a critical temperature limit is reached, PWM (Pulse Width Modulation) is activated - the LED lights blink faster than the eye can see, reducing the effect of heat on the lifespan of the light bar. This system has helped establish Vision X products as superior in the market.
Includes
Vision X 24-inch XPR-12 LED light bar
Connectors, wire relay harness and fuses
Vehicle specific mounting clamps for quick, easy installation
Detailed installation guide
High-Level Certifications
E-Mark - European Regulatory certification for on highway use
DOT - US Department of Transportation certified for on road use
CE - CE is a mandatory conformity mark for products in the European Economic Area
SAE - SAE standard compliant for transport and automotive regulations
ADR - Products which are in compliance with the Australian Design Rules (ADR)
RoHS - Ensures no use of restricted hazardous materials in products
EMC - EMC and EMI certifies that a product does not interfere with other electrical products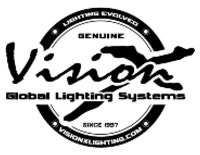 Specifications


| | |
| --- | --- |
| E-Marked Certification | ECE R112 ref. 45 |
| Other certifications | CE, RoHS |
| Housing | Rigid Anodised Aluminium |
| Voltage | 11 - 32V |
| Amp. draw | 10A at 12V |
| IP-rating | IP68, IP69K |
| Vibration class | 15.6G |
| Temperature span | -40°C - +80°C |
| Height | 80mm |
| Depth | 81mm |
| Width | 609mm |
| Watt | 120 |
| Raw Lumen | 12,984 |
| Lens | Polycarbonate |
| Beam Pattern | 5° Spot, 70° Flood |
More Information

| | |
| --- | --- |
| Brand | Truckman |
| Compatible Vehicles | Mitsubishi L200 Mk8 (2015 Onwards) Double Cab, Mitsubishi L200 Mk8 (2016 Onwards) Club Cab/Extra Cab, Mitsubishi L200 Mk8 (2016 Onwards) Single Cab |
Fit at Home
This product can be DIY-installed with the included fitting instructions. *
Fitting & Installation Centre, West Midlands
If you'd prefer to have this accessory fitted by our experts, read on to learn about our accessory fitting service. Open five days a week, our specialist West Midlands fitting centre is ideally located in Dudley, around 30 mins from Birmingham City Centre.
Our experienced team of fitters and technicians are on hand to accessorise your vehicle whilst you relax in our pet-friendly showroom. Here are some benefits of our fitting service:
Express fitting of accessories by experienced specialists
Comfortable waiting area and accessory showroom
Free WiFi and TV
Pet-friendly
Close to Merry Hill Shopping Centre, over 200 shops
Located alongside Dudley Canal with scenic waterside walkways
* Please Note: Some products, for example, spare parts, may not be supplied with fitting instructions.
Delivery Methods
Fast, same-day despatch on orders placed by 2:00pm on weekdays
Fully insured and trackable shipping methods using specialist delivery partners
Competitively-priced delivery rates across our diverse range of products - from fast parcel shipping to pallet delivery
Products handled with care and packaged in highly-protective packaging
UK Offshore Delivery
Delivery to UK offshore destinations, depending on the type and quantity of products ordered, may incur an additional cost. If your order is subject to any delivery surcharge by our couriers, our team will contact you as soon as possible, after your order is placed.
International Delivery
Our dedicated Export Team are on hand to facilitate international delivery. Customers outside of the United Kingdom can Request a Quote by proceeding through the Checkout. Our team will contact you within 24 hours with a competitive shipping price.
Returns
If you're unhappy with an item you've ordered, or you've ordered an incorrect item, contact us and we'll make the returns process easy. Read more.
For more information about delivery and returns, please see our Terms and Conditions.