Truckman Grand Hardtop Canopy Mitsubishi L200 Mk8-9 (2015 Onwards) Double Cab
The iconic Truckman Grand hard top is the UK's best selling premium pick-up truck canopy. With a stylish cab-high design and tinted pop-out side windows, the Grand is a feature-rich upgrade for the Mitsubishi L200 and comes with a 3-year warranty.
Read More
Usually delivered within 2-7 working days
Choose the UK's best selling Truckman Grand hardtop canopy and transform the look, security and versatility of your pick-up truck. Practical and functional, the Grand is the single best upgrade for your pickup - for both work and leisure.
Designed in the United Kingdom, the hardtop canopy complements the pick-up through its wealth of technology and features - and matches your vehicle paint's colour code.
The best-selling Truckman Grand canopy is compatible with the Mitsubishi L200 Series 5 and Series 6 - Challenger, Warrior, Barbarian, Barbarian X and 4Life models.
Features and Benefits
Extra storage - increase truck bed capacity by 50%
Remote central locking - works with your existing keyfob for extra security
Cab-high hardtop - seamless design continuity, complements pick-up's appearance
Heated rear window - clears ice and mist for all-round visibility when you need it most
Automatic interior LED light - full visibility, ideal for dark winter evenings
Tinted windows - optimum security for your belongings
Pop-out side windows - improved ventilation
Sliding bulkhead window - additional ventilation for pets, easy access for cleaning the cab
Luxurious vinyl-lined, wipe-clean interior - stylish, easy to maintain
Integrated roof bars with 55kg capacity - practical and functional, excellent for crossbars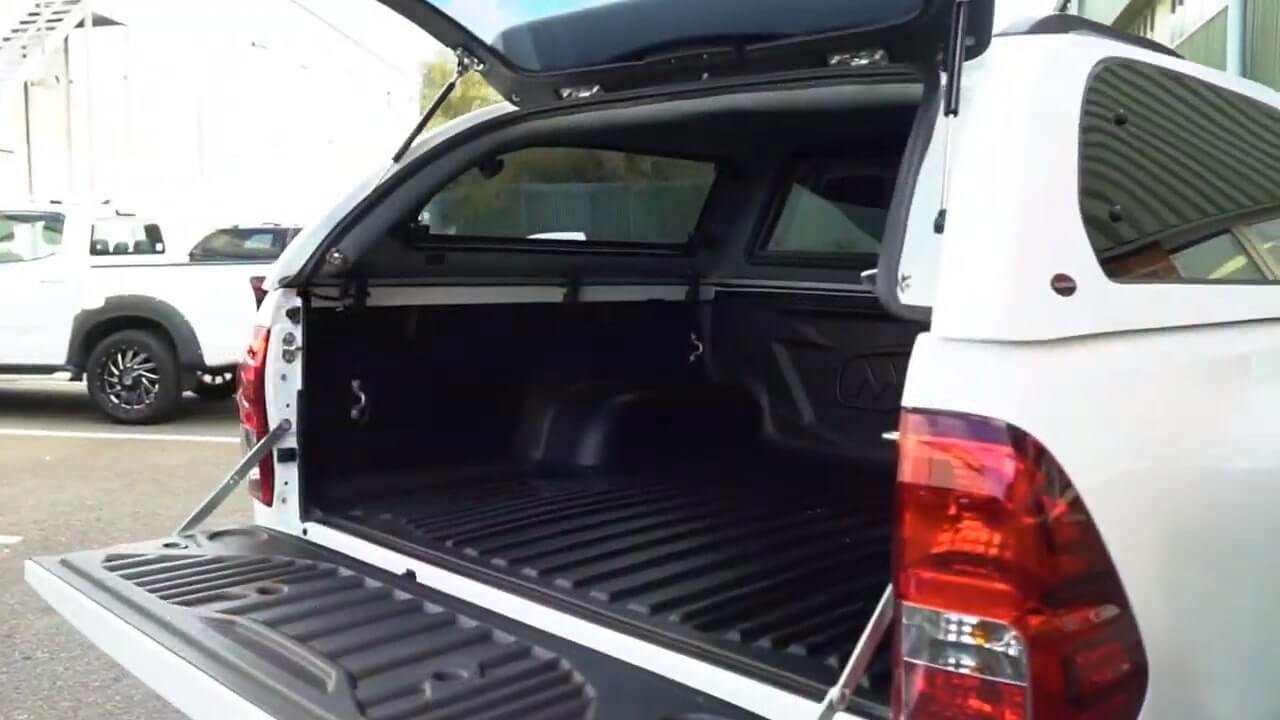 Ultra-Convenient Storage with Remote Central Locking
Secure and access your pickup's increased storage space without fumbling for additional keys or fobs. The Truckman Grand works with your existing keyfob, simultaneously locking and unlocking with all other doors - on your command.
The invaluable extra storage capacity created by the canopy's high roofline is ideal for transporting shopping, tools, bicycles and pets.
The tinted tailgate, supported by gas-powered struts, effortlessly opens creating an impressively wide aperture for easy loading and access to stored items. The heavy-duty handle's lock barrel is concealed under a protective cover - a stylish detail that prevents the ingress of dirt and helps maintain the integrity of the lock.
Specially Designed for Mitsubishi L200
Complement your truck's stylish appearance and improve fuel efficiency with the aerodynamically designed Truckman Grand canopy.
Designed in the United Kingdom, the hardtop perfectly adheres to the sophisticated features and curvatures of the vehicle, giving you a transformative yet affordable upgrade to your pickup's appearance and functionality.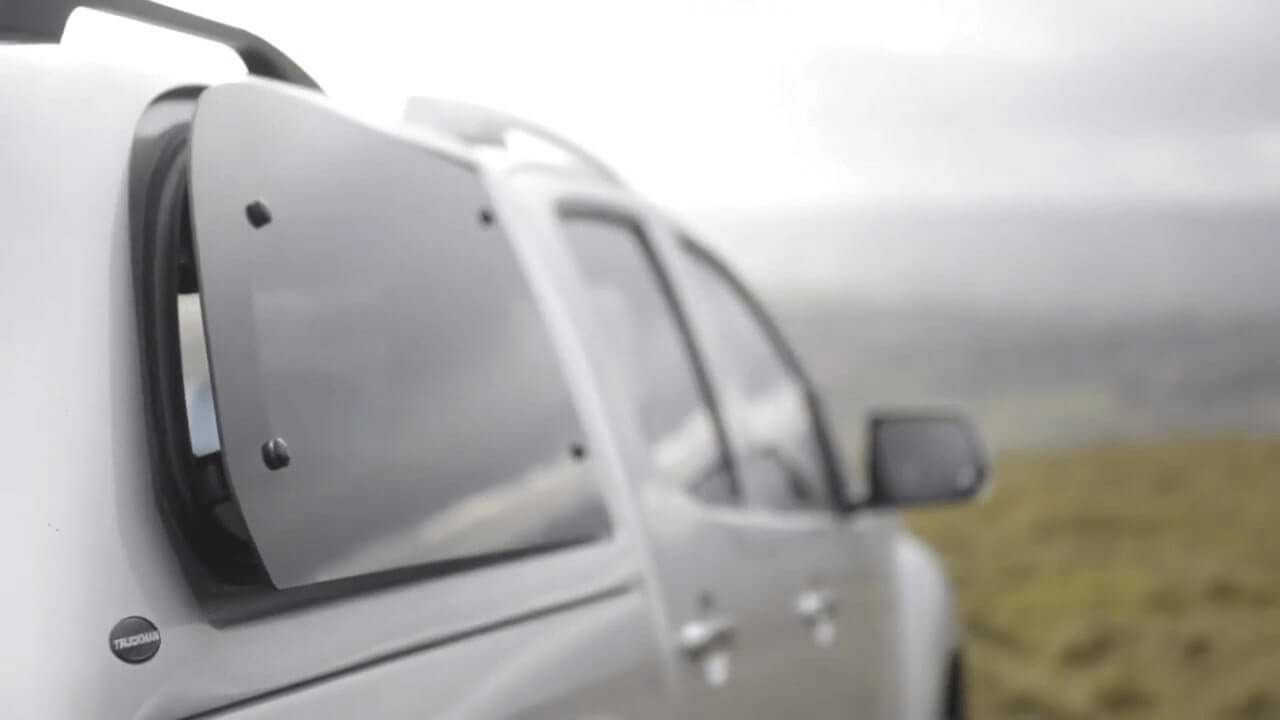 Tinted, Pop-Out, One-Piece Side Windows
Opened from the inside, the Truckman Grand's pop-out windows allow for improved ventilation when it's needed - ideal for carrying pets.
The windows are stylishly tinted, keeping your belongings safe and secure when stored in your pick-up. The one-piece, frameless design of the side windows allow for maximum visibility when reverse parking.
Heated Rear Window - Ideal for Winter
Uncompromising on safety and driver convenience, the Truckman Grand's rear window is heated - effortlessly clearing away ice or condensation allowing for improved all-round visibility. Fully incorporated and operated by the vehicle's existing switch, the feature is a life-saver for Winter months.
Integrated Roof Bars - Even More Carrying Space
Increase the storage and carrying space of your pick-up truck with the Truckman Grand's integrated 55kg load-bearing roof bars. Continuing the hardtop's immeasurable versatility, the roof bars are ideal for transporting bulky items, equipment or tools. Compatible with most crossbars, the hardtop can be used to secure anything from a roof box to a kayak.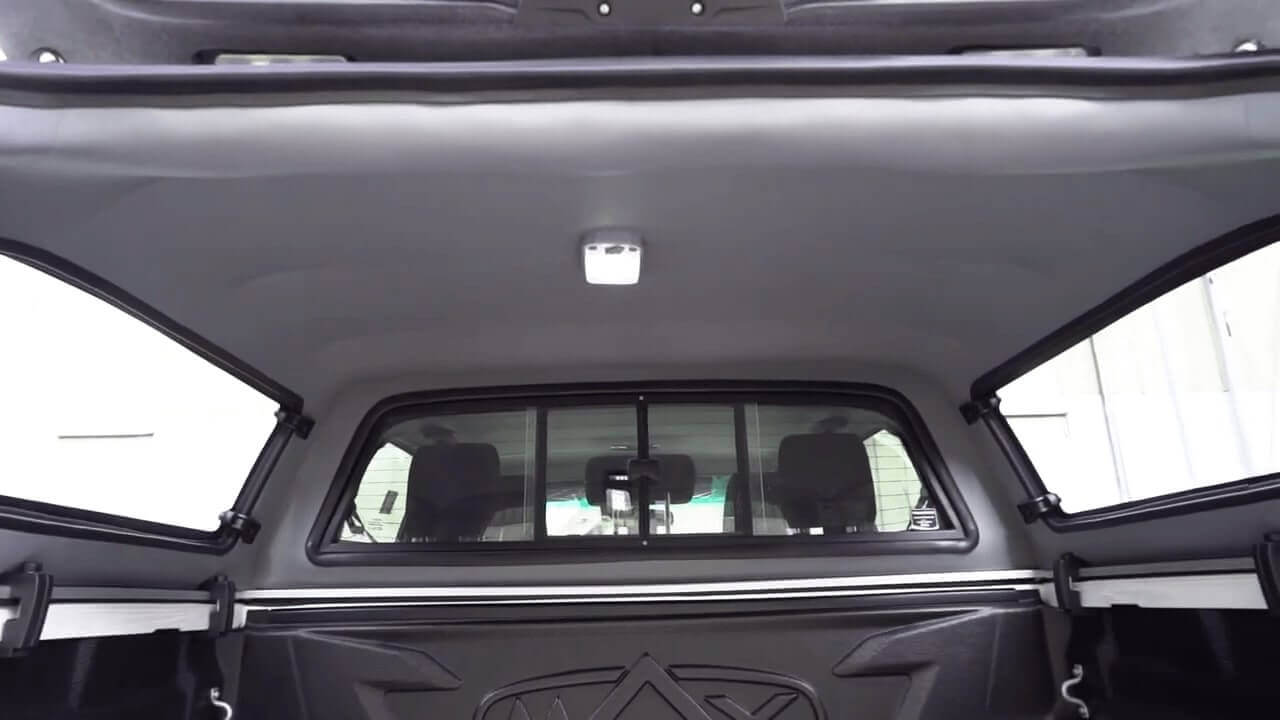 Luxurious Vinyl-Lined, Wipe Clean Interior
Enhance the signature, stylish appearance of your pick-up. The Truckman Grand's vinyl-lined interior is a wipe-clean surface allowing you to easily maintain and care for your hardtop no matter what you're using it for - including carrying your pets or transporting your tools.
Includes
Truckman Grand - UK's best selling luxury hardtop
Six heavy-duty clamps for quick installation
Free pot of colour coded paint - in case your hardtop ever gets damaged
Wiring harness - includes a waterproof automotive connector
Comprehensive, easy-to-follow fitting instructions, complete with photos
3-year warranty - for added peace of mind
The best-selling Truckman Grand canopy is compatible with the Mitsubishi L200 Series 5 and Series 6 - Challenger, Warrior, Barbarian, Barbarian X and 4Life models.
More Information

| | |
| --- | --- |
| Brand | Truckman |
| Compatible Vehicles | Fiat Fullback Mk1 (2016 Onwards), Mitsubishi L200 Mk8 (2015 Onwards) Double Cab, Mitsubishi L200 Mk9 (2019 Onwards) Double Cab |
Downloads:
How to fit the Truckman Grand hardtop.pdf
Fit at Home
This product can be DIY-installed with the included fitting instructions.
Fitting & Installation Centre, West Midlands
If you'd prefer to have this accessory fitted by our experts, read on to learn about our accessory fitting service. Open five days a week, our specialist West Midlands fitting centre is ideally located in Dudley, around 30 mins from Birmingham City Centre.
Our experienced team of fitters and technicians are on hand to accessorise your vehicle whilst you relax in our pet-friendly showroom. Here are some benefits of our fitting service:
Express fitting of accessories by experienced specialists
Comfortable waiting area and accessory showroom
Free WiFi and TV
Pet-friendly
Close to Merry Hill Shopping Centre, over 200 shops
Located alongside Dudley Canal with scenic waterside walkways
Delivery Methods
Fast, same-day despatch on orders placed by 2:00pm on weekdays
Fully insured and trackable shipping methods using specialist delivery partners
Competitively-priced delivery rates across our diverse range of products - from fast parcel shipping to pallet delivery
Products handled with care and packaged in highly-protective packaging
International Delivery
Our dedicated Export Team are on hand to facilitate international delivery. Customers outside of the United Kingdom can Request a Quote by proceeding through the Checkout. Our team will contact you within 24 hours with a competitive shipping price.
Returns
If you're unhappy with an item you've ordered, or you've ordered an incorrect item, contact us and we'll make the returns process easy. Read more.
For more information about delivery and returns, please see our Terms and Conditions.