DECKED Twin Drawer Storage System Volkswagen Amarok Mk1-2 (2010 - 2021) Double Cab
Designed to increase productivity and organise your truck bed, DECKED's twin drawer storage system is a solution to the problem of having to reach over or crawl into your truck bed to reach cargo that slides around endlessly. Manufactured in the USA and exclusive to Truckman, DECKED is a transformative upgrade.
DECKED is compatible with most tonneau covers. However, it is not compatible with any roller shutters.
Read More
£1,505.52 £1,254.60
Low Stock
Features & Benefits
Two full bed-length drawers – easy access to truck bed, no awkward lifting
Fully customisable with a range of accessories – maximise storage space, efficient access to your cargo
Fully secure – cargo can be secured in each drawer behind a locking tailgate
Covered wheel wells – creates a larger, flat surface area deck, ideal for bulky cargo
Ultra-strong low-profile steel subframe – 1 tonne evenly distributed load capacity
Two deep storage bins at the rear – ideal for storing chains, tie-downs and other miscellaneous items
Weatherproof with integrated drainage channels – helps to keep cargo protected from the elements
Made from high-density polyethene – no rust, no rot, oil-resistant
3-year warranty – for extra peace of mind
Please note: DECKED does not fit with Ford electric roller shutter
Overview

Designed to increase productivity and organise your truck bed, DECKED's twin drawer storage system is a solution to the problem of having to reach over or crawl into your truck bed to reach cargo that slides around endlessly.
Two full-bed length drawers extend to a reveal a storage space that can be organised to meet your requirements – DECKED can be customised with a range of accessories like drawer dividers/partitions, waterproof toolboxes and more.
When fitted, DECKED sits above the wheel wells in the truck bed to create a full-width, full-length surface area with a 1-tonne evenly distributed load capacity.
DECKED offers greater security for your cargo – each drawer can be closed and hidden behind a locking tailgate.
Compatability
Spray-in Bed Liners
The DECKED drawers have been designed with spray-in bed liners in mind and have enough lateral space available to accommodate a spray liner.
Plastic Bed Liners
Plastic bed liners are not compatible as the DECKED drawer system has been designed to fit snug in your truck's load bed. If you've got a factory fitted one, it'll need to come out, but you can leave your tailgate piece in place.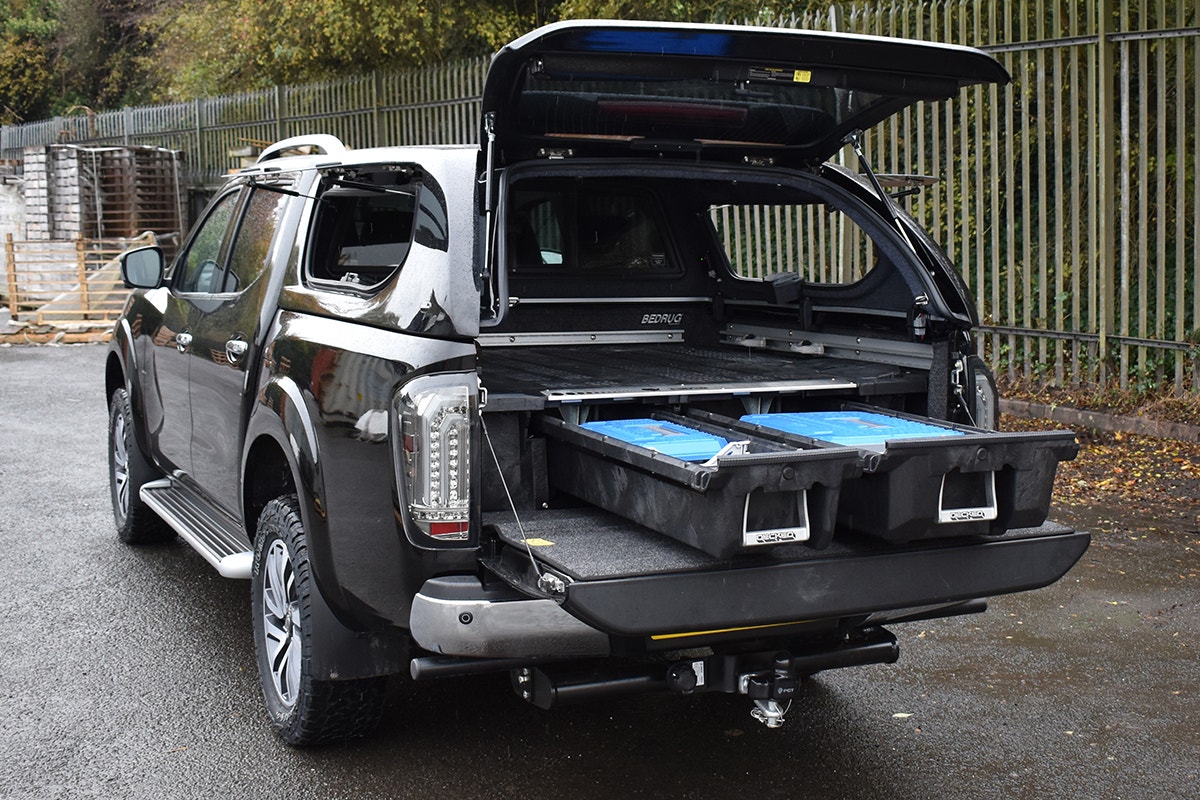 Award Winning Secure Drawer Storage System

Designed in the United States and exclusive to Truckman, DECKED is a unique and revolutionary low-profile pick-up truck drawer system. Featuring ergonomic and heavy-duty integrated drawers that conveniently slide in and out within easy reach, each drawer is capable of holding up to 90kg of cargo.

Introduced to the UK by Truckman, DECKED has achieved approval from major manufacturers such as Toyota and Nissan and won the prestigious 2019 WhatVan? Aftermarket Award. Valued by commercial and leisure users, this innovative storage system is ideal for tradespeople, sports enthusiasts, utility engineers, agricultural workers and more.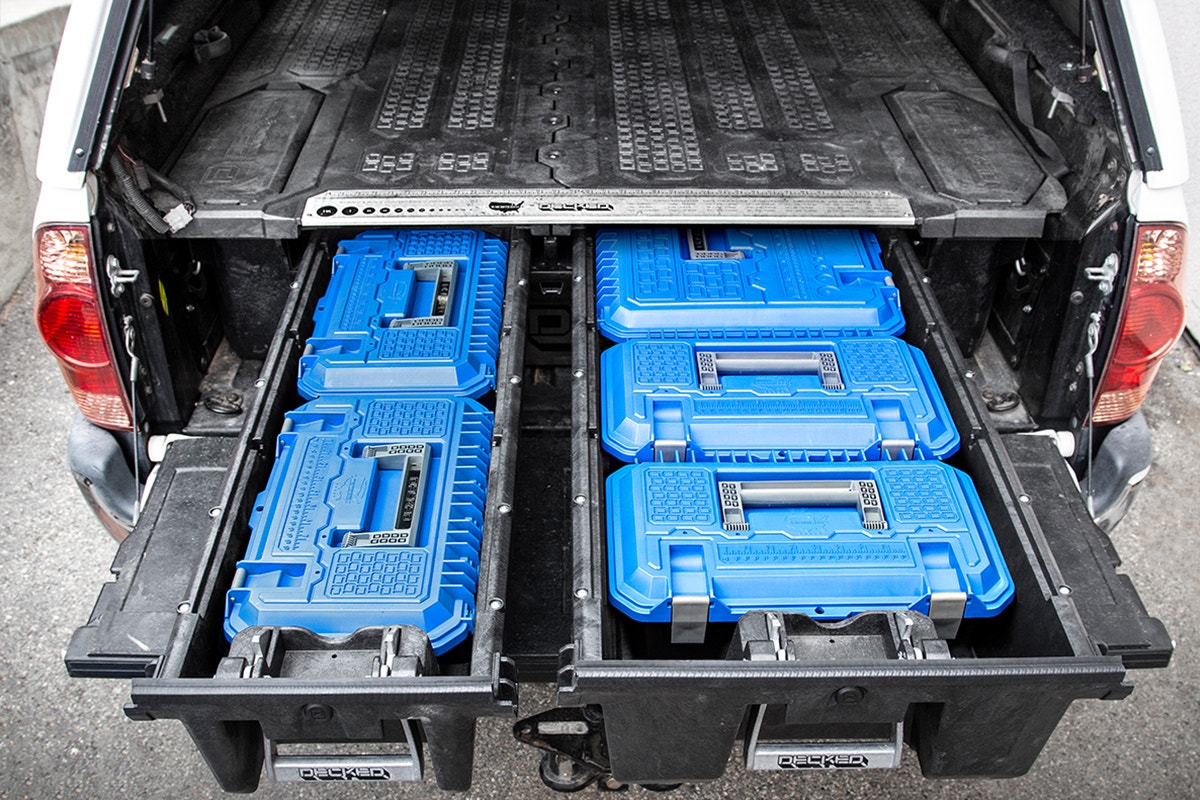 Customise your System with Optional Accessories
The UK-award winning pick-up truck drawer storage system is as versatile as it is dependable. Customisable with a range of modular components, DECKED's two drawers can be segmented and divided so that you can maximise efficiency and get rid of the clutter in your truck bed.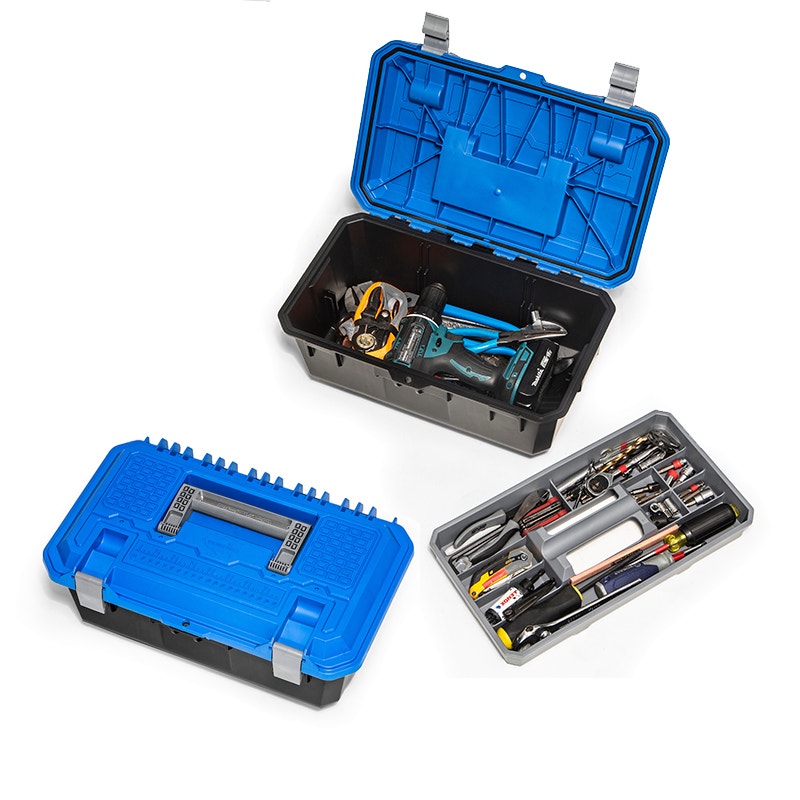 Crossbox
With a neat, portable design, the Crossbox is ideal for storing items you need to carry in your pick-up at all times. The handy toolbox features a removable small tool and parts organiser tray. The Crossbox also features an EPDM gasket which makes the toolbox virtually waterproof. Up to three Crossboxes can be fitted sideways in the Wide Drawer, and up to two, lengthways in the Narrow Drawer.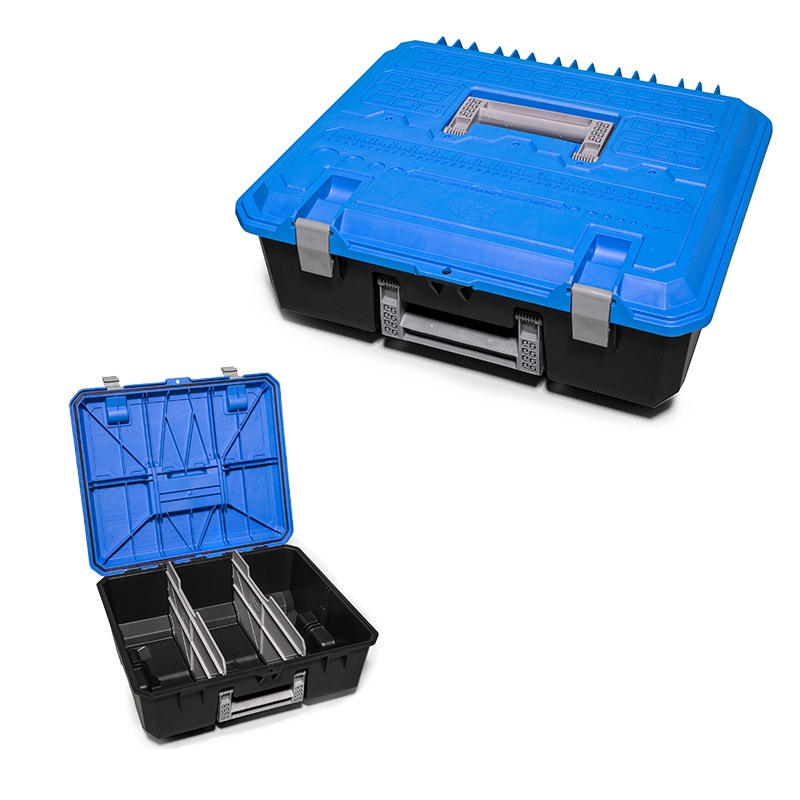 D-Box
Featuring locking levers, dual handles and removable dividers, the D-Box helps to organise cargo and eliminate clutter. Highly durable and impact-resistant, the toolbox can hold up to 22kg whilst an EPDM gasket keeps the contents dry and protected from the rain. Up to two D-Boxes can be fitted in DECKED's wide drawer.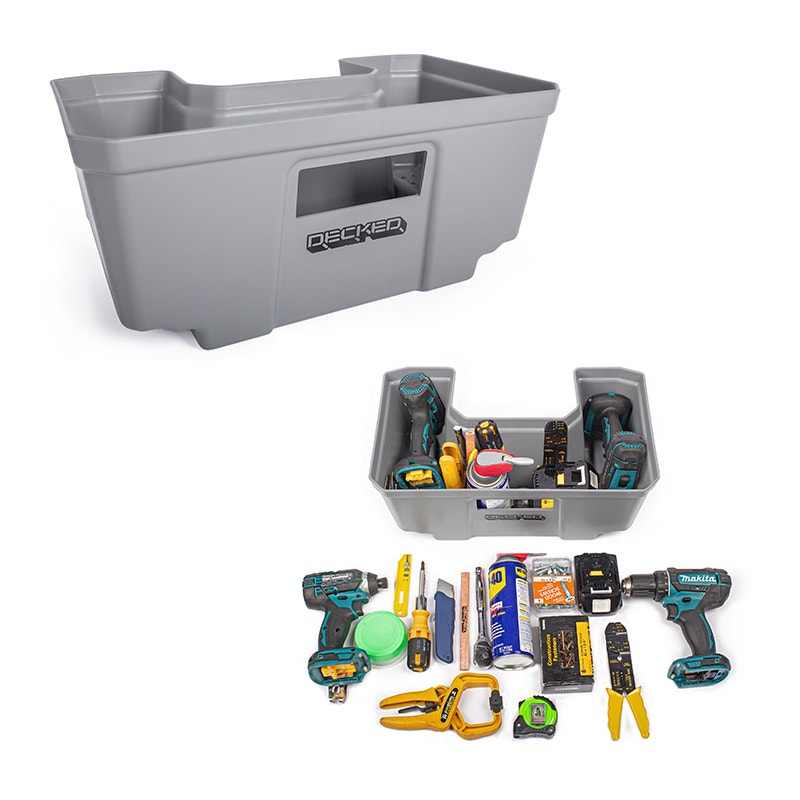 Drawerganizer
The DECKED Drawerganizer gives you an easy and affordable way to organize items in your DECKED drawer system and helps keep clutter to a minimum. Ideal for smaller items such as tools, hardware, supplies, and consumables, the Drawerganizer can be dropped in and removed quickly and easily, as and when it's needed.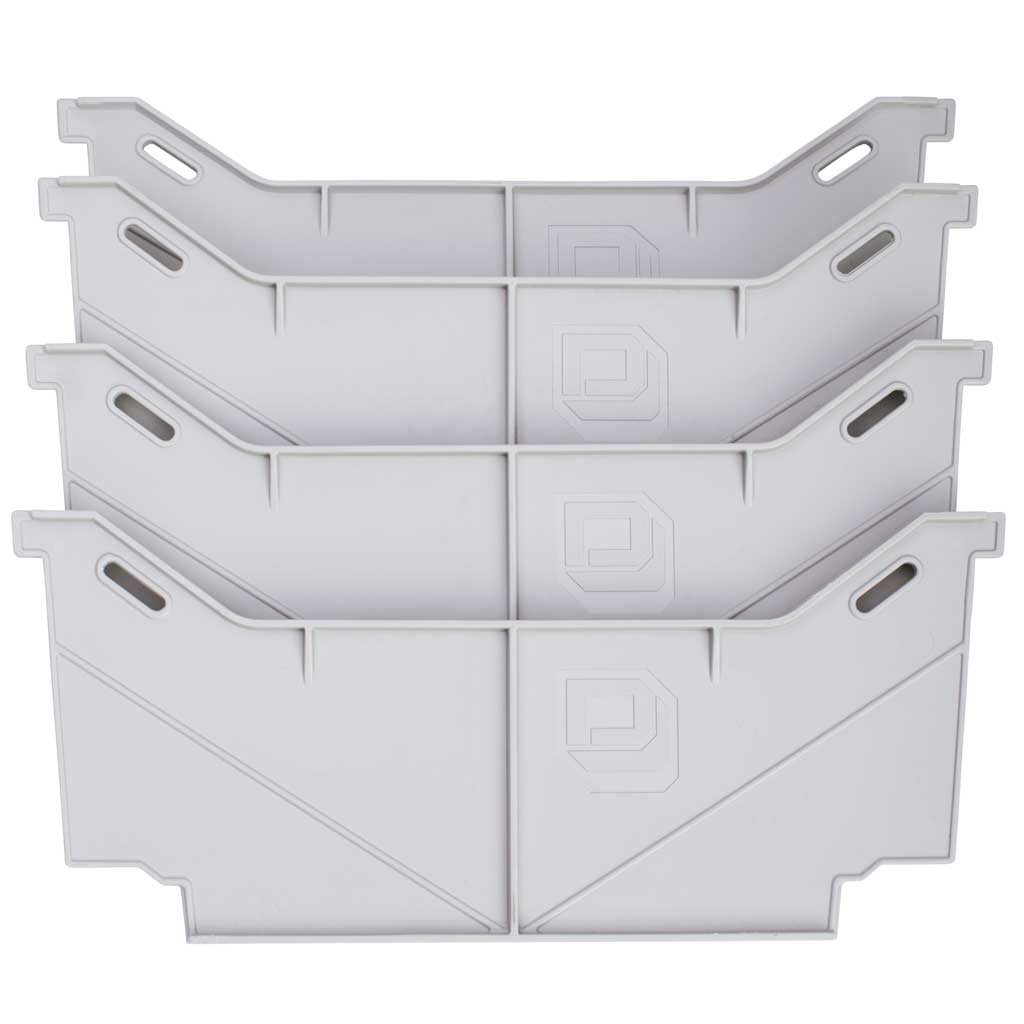 Drawer Dividers
DECKED's drawer dividers allow you to segment and compartmentalise your storage space and prevent items from bouncing or sliding around. The dividers simply slot into the drawer's existing mounting points meaning you can chop and change the size of your drawer's compartments depending on the size of your cargo.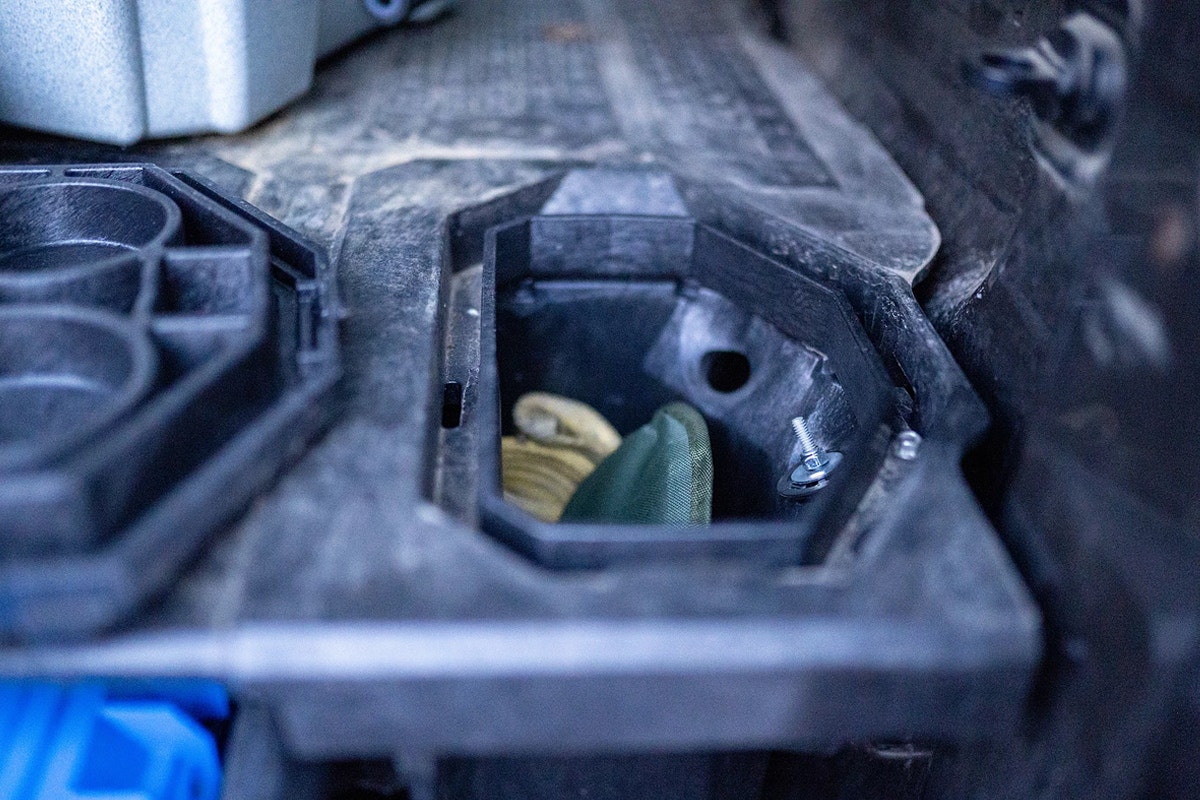 Additional, Deep Storage Bins
DECKED features two extra storage bins incorporated into the platform at the tailgate end, ideal for storing straps, chains, gloves, or small tools like spanners, , etc. When flipped over, the lids reveal drink holders, which can also be used to hold smaller items such as screws, nuts, or bolts – ideal for when on the job or carrying out DIY at home.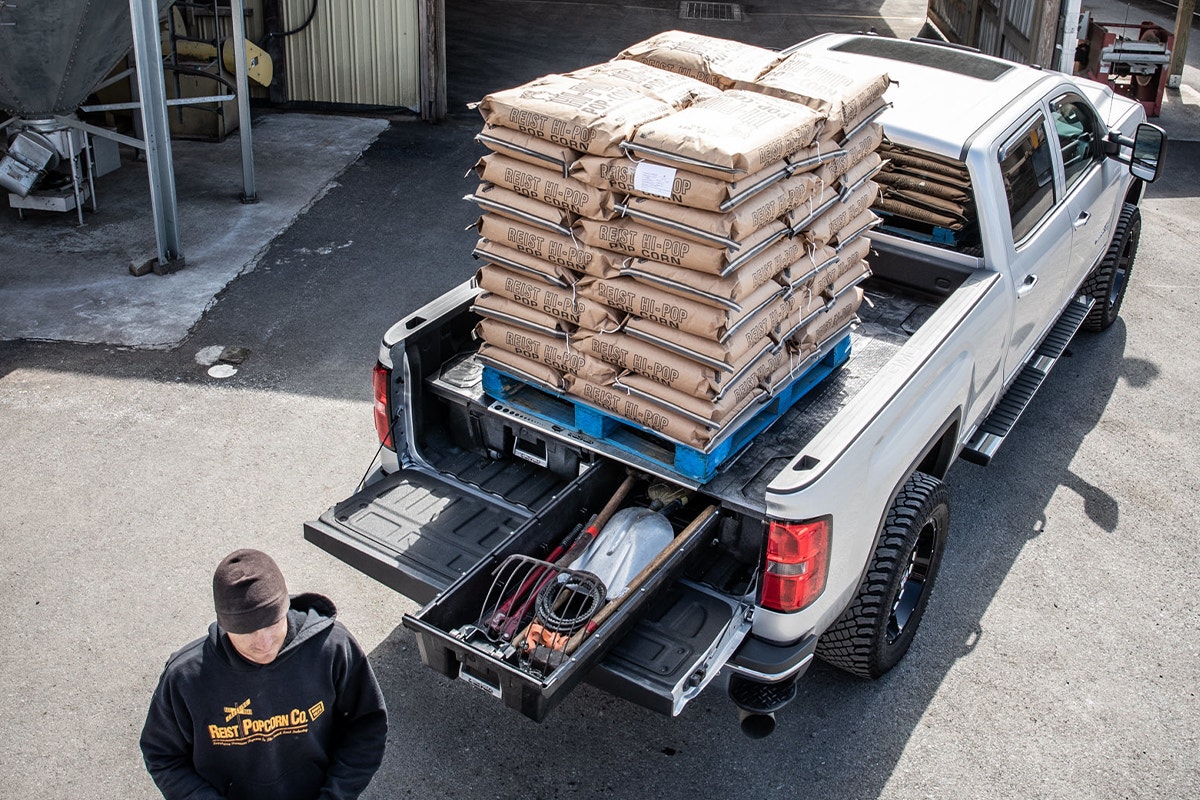 Ultra-Strong HDPE & Steel Sub-Frame
Built to last a lifetime, DECKED is manufactured from High-Density Polyethylene (HDPE), an impressive material which is resistant to chemicals and able to withstand harsh environments. The HDPE is co-moulded onto an ultra-strong steel sub-frame. DECKED has an impressive evenly-distributed 1-tonne load rating.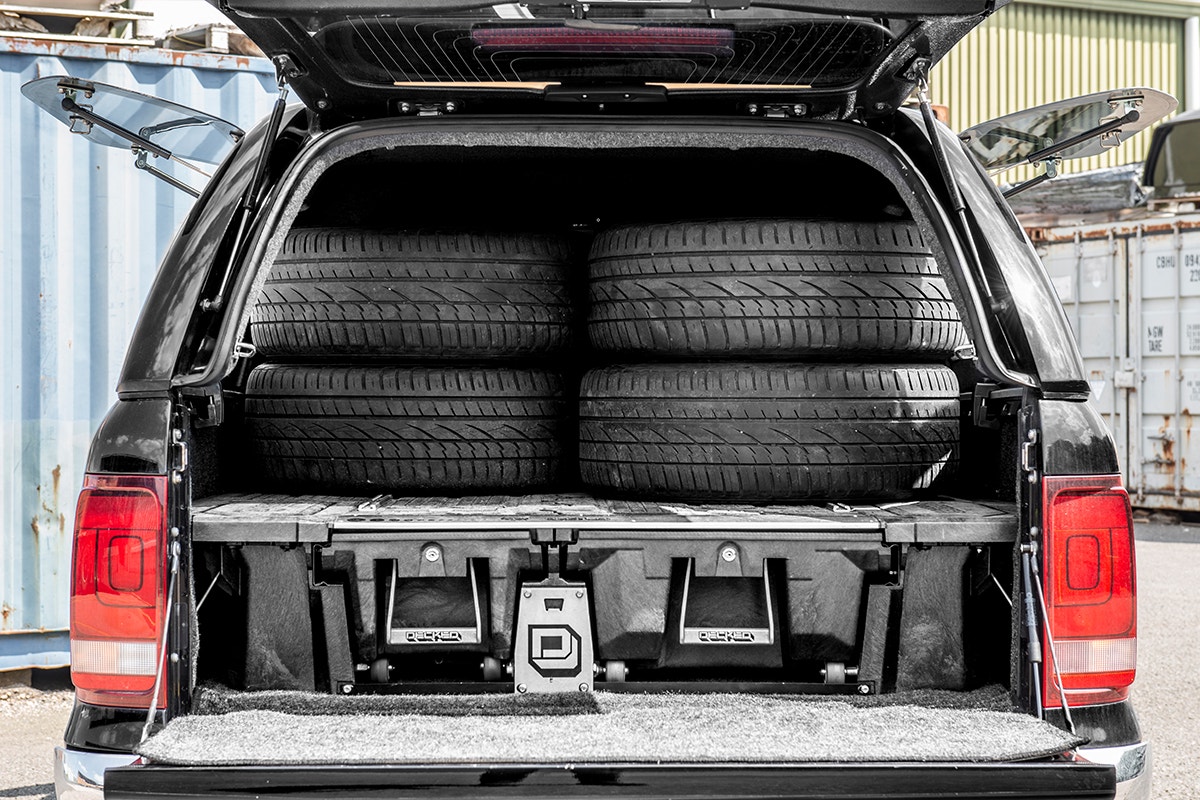 Preserved Load Space
DECKED features a raised platform that fits securely and precisely into the pick-up truck's load bed. The storage system creates a flat surface area of the truck bed by covering the wheel wells, maximising your storage space allowing you to transport bulky items.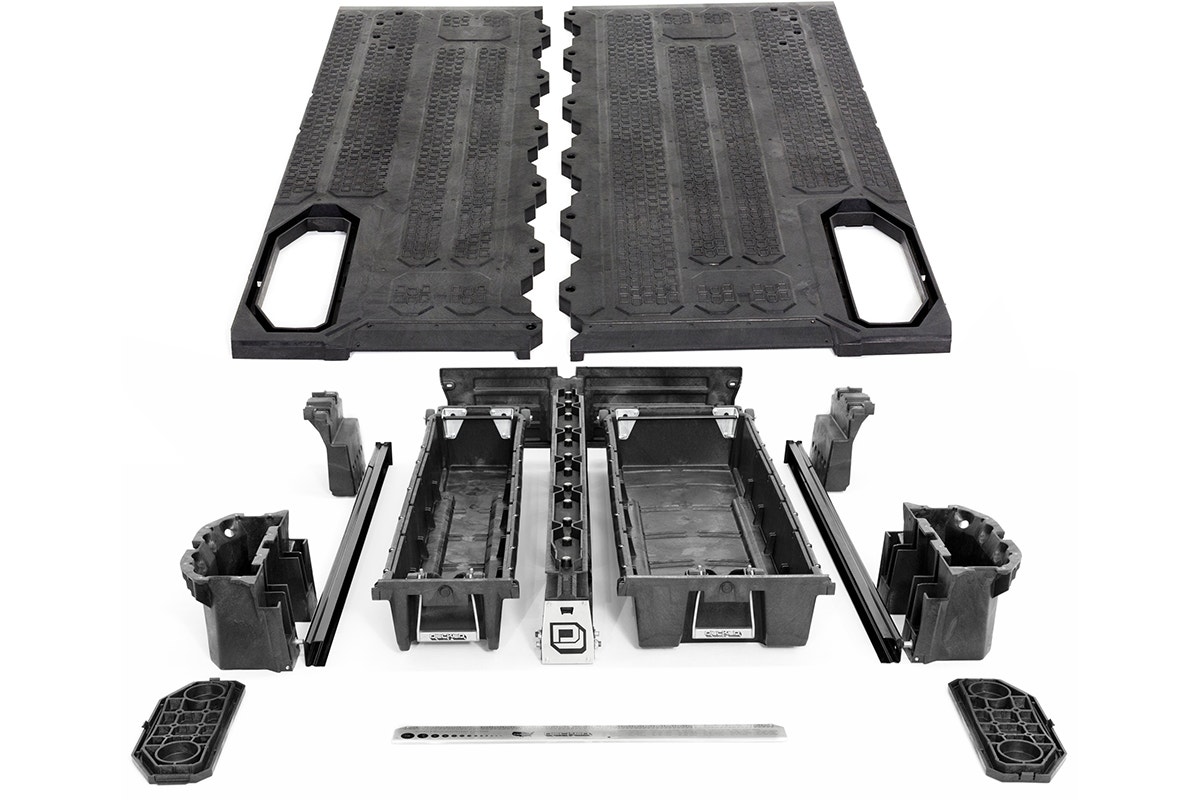 Easy to Install & Remove
DECKED drawer storage systems are manufactured with vehicle model-specific precision – matching the load bed's sidewall topography to ensure a snug and secure fit.
Some vehicles require a small amount of drilling to install depending on the make, model and year. In every case it's only a minor amount (4 to 6 holes) and the fitting instructions offer clear guidance as to how to properly do this.
If DECKED ever needs to be taken out of or transferred to another vehicle, the assembled system can be removed in around 15 minutes – the drilled holes can then be re-filled with rubber grommets.
Every DECKED system is shipped in a box with an easy-to-follow, step-by-step fitting guide complete with images, enabling you to enjoy a transformational pick-up truck drawer system within three to four hours.
Specifications
System Dimensions
| | |
| --- | --- |
| Height | 304.8 mm |
| Weight | 91 kg |
Narrow Drawer Dimensions
| | |
| --- | --- |
| Length (top of drawer) | 1346.2 mm |
| Length (bottom of drawer) | 1201.4 mm |
| Width (top of drawer) | 279.4 mm |
| Width (bottom of drawer) | 247.7 mm |
| Height | 215.9 mm |
| Drawer Extension | 914.4 mm |
Wide Drawer Dimensions
| | |
| --- | --- |
| Length (top of drawer) | 1346.2 mm |
| Length (bottom of drawer) | 1201.4 mm |
| Width (top of drawer) | 457.2 mm |
| Width (bottom of drawer) | 425.5 mm |
| Height | 215.9 mm |
| Drawer Extension | 914.4 mm |
More Information

| | |
| --- | --- |
| Brand | Decked Storage Systems |
| Manufacturer | VW |
| Compatible Vehicles | VW Amarok Mk1 (2010 - 2017), VW Amarok Mk2 (2017 - 2020) |
Downloads:
Fit at Home
This product can be DIY-installed with the included fitting instructions. *
Fitting & Installation Centre, West Midlands
If you'd prefer to have this accessory fitted by our experts, read on to learn about our accessory fitting service. Open five days a week, our specialist West Midlands fitting centre is ideally located in Dudley, around 30 mins from Birmingham City Centre.
Our experienced team of fitters and technicians are on hand to accessorise your vehicle whilst you relax in our pet-friendly showroom. Here are some benefits of our fitting service:
Express fitting of accessories by experienced specialists
Comfortable waiting area and accessory showroom
Free WiFi and TV
Pet-friendly
Close to Merry Hill Shopping Centre, over 200 shops
Located alongside Dudley Canal with scenic waterside walkways
* Please Note: Some products, for example, spare parts, may not be supplied with fitting instructions.
Delivery Methods
Fast, same-day despatch on orders placed by 2:00pm on weekdays
Fully insured and trackable shipping methods using specialist delivery partners
Competitively-priced delivery rates across our diverse range of products - from fast parcel shipping to pallet delivery
Products handled with care and packaged in highly-protective packaging
UK Offshore Delivery
Delivery to UK offshore destinations, depending on the type and quantity of products ordered, may incur an additional cost. If your order is subject to any delivery surcharge by our couriers, our team will contact you as soon as possible, after your order is placed.
International Delivery
Our dedicated Export Team are on hand to facilitate international delivery. Customers outside of the United Kingdom can Request a Quote by proceeding through the Checkout. Our team will contact you within 24 hours with a competitive shipping price.
Returns
If you're unhappy with an item you've ordered, or you've ordered an incorrect item, contact us and we'll make the returns process easy. Read more.
For more information about delivery and returns, please see our Terms and Conditions.
Customer Questions
Can I add a sliding tray to the top of my DECKED drawers?
Yes, the DECKED CargoGlide is a purpose designed sliding tray to fit with your DECKED drawer system.
What are the dimensions of the DECKED drawer system?
The drawers are the same size in every vehicle - only the top deck is different to match the different vehicle bed sizes. Small Drawer (Left) Length - 120cm Width - 28cm Height - 25cm Larger Drawer (Right) Length - 120cm Width - 46cm Height - 25cm
What is the height to the top of the deck?
This can vary slightly, but from floor to top of the DECKED it is approximately 300mm.
Will I still be able to access the 12v power socket in the tub?
The 12v socket can be re-routed to sit just inside the ammo box

I have a roller shutter fitted, can I add a DECKED drawer system?
Unfortunately, DECKED isn't compatible with any roller shutter. This is mainly because the DECKED would be physically in the way of the mechanism underneath a roller shutter. DECKED is best fitted with a hardtop canopy.If you have a roller shutter and would like to improve load bed access, why not have a look at
sliding trays
instead?
How does DECKED fit to my vehicle?
DECKED is supplied as a bespoke kit, designed to be built up into a full unit into your vehicle. For most vehicles, a small amount of drilling is required to install the brackets, the rest of the installation is relatively straightforward.If your vehicle has a factory fitted or aftermarket plastic bed liner, this will need to be removed in order to fit a DECKED drawer system. The tailgate piece can stay in place.
How far do the drawers extend on a drawer system?
The DECKED drawers are designed to extend right over the vehicles tailgate, making it extremely easy to load and unload the drawers.
Do the drawers come right up to the edge of the bed?
There is a small amount of space from the drawers to the end of the load bed/tailgate but this is only very minimal.